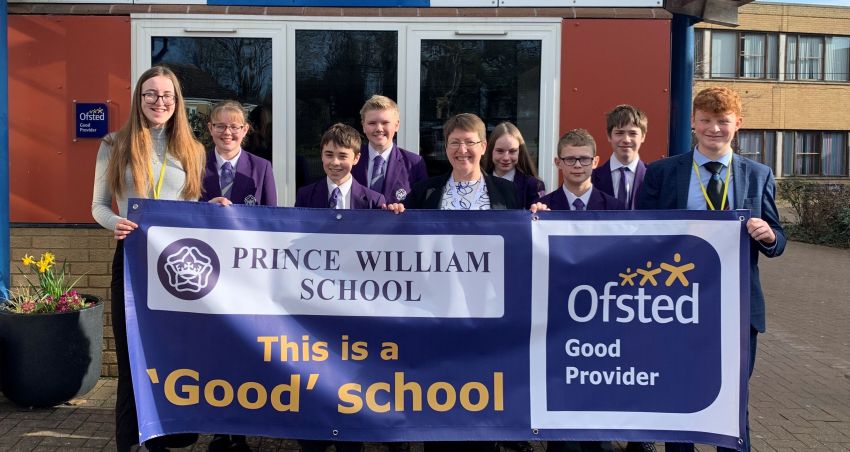 Prince William School staff and students are celebrating being rated 'Good' in a glowing Ofsted report.
Ofsted inspectors describe the school as a 'calm and friendly' place where students feel safe, happy and supported. They said students are proud of their school and they wear their uniform with pride.
The report also praises the respect between staff and students, some of whom described teaching staff as 'inspirational'.
Headteacher Elizabeth Dormor said: "After nine years as 'Requires Improvement', this is an incredible milestone for the school to return to being a 'Good' school."
Ofsted Good GP ColourThe Ofsted report also says:
Staff are ambitious and have high expectations for students. They have strong subject knowledge and provide a range of opportunities to achieve the school's motto 'learning for life'.
Leaders have designed a curriculum that has a broad range of subjects in all key stages, and ensure that students in all year groups receive appropriate careers advice and guidance.
Sixth form students enjoy their education and are able to debate and discuss with ease and confidence.
The pastoral team, which includes The Hub, is a strength of the school. The Hub is described as a sanctuary where students can find help and guidance.
Leaders and governors have established a positive culture at Prince William School.
Leaders have high expectations of students' behaviour and conduct, and bullying is rare.
Mrs Dormor said: "I am delighted that Ofsted has recognised the significant improvements we have made since our last inspection in 2017. Student outcomes have been improving year on year, but gaining the 'Good' judgement from Ofsted confirms the progress we have made. Everyone has worked hard to achieve this, and we are all very proud to be acknowledged by Ofsted.
"We will now continue to build on this success and work towards making Prince William School an outstanding school."
Joshua Coleman, Chief Executive Officer of East Midlands Academy Trust, said: "We have worked incredibly hard as a team to bring about real and sustained improvement at Prince William, something recognised not only by Ofsted but also by parents, who told the inspection team that they can see how the school has progressed.
"I am very pleased that these efforts have resulted in a well-deserved 'Good' rating for Prince William School."