Sixth Form Admissions
Entry to the Sixth Form at Prince William School is based on a student's Average Point Score.
It is important that students choose courses, and combination of courses, carefully taking into account their strengths, interests and potential career paths. All students entering our Sixth Form will have an interview that will explore the suitability of the course to the student. For this reason, it is important to choose courses using the table below to determine whether a student should follow an A level route, a BTEC route or a route that is a combination of both.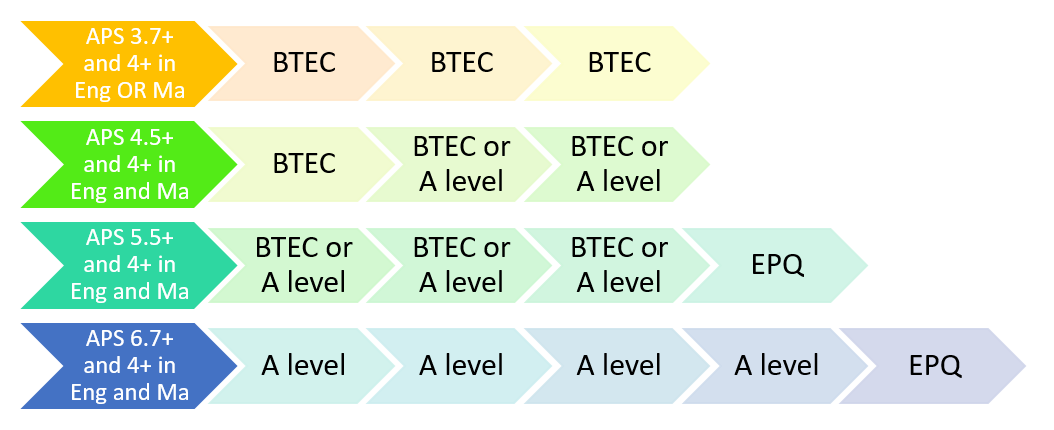 Students in Year 11 at Prince William School need to apply formally for a place in the Sixth Form. Career, Advice and Information interviews will be conducted in order to fully support students and the Post 16 Team will examine subject choices and offer further guidance, should the need arise. Students will receive confirmation that their application has been successful.
The school will admit students from outside the traditional Prince William School catchment into Year 12. The maximum number of admissions for external candidates is 30. Entry requirements for courses are the same as those for internal applicants. In the event that there are more than 30 external applicants, consideration will be given to the proximity of the applicant's home to the college as measured in a straight line.
Students entering Prince William School Sixth Form will be expected to read and sign a learning agreement which outlines the commitment required to be successful in Post 16 study and the support that students can expect to receive from Prince William School staff. In addition, Sixth Form students must recognise that they are part of a large community and have a responsibility to abide by our dress code and conduct themselves in a manner that supports the Prince William School's ethos.
Qualifications available for entry into the Sixth Form for September 2020 are listed below. Please note that in addition to the relevant Average Point Score for A levels/other Level 3 qualification, subjects marked with an asterisk (*) require a grade 6 or higher at GCSE in order to be accepted onto the A level course.
| | | | |
| --- | --- | --- | --- |
| Applied Science | L3 BTEC | Further Maths* | A level |
| Art | A Level | Geography | A Level |
| Biology* | A Level | Government and Politics | A Level |
| Business | A Level | Health and Social Care | L3 BTEC |
| Chemistry* | A Level | History | A Level |
| Computing | A Level | Information Technology | L3 BTEC |
| Core Mathematics | L3 Qualification | Travel and Tourism | L3 BTEC |
| Dance | A Level | Mathematics* | A Level |
| Drama | A Level | Music | A Level |
| Economics | A Level | Performing Arts | L3 BTEC |
| Engineering | L3 Tech Level | Physics* | A Level |
| English Lang and Lit | A Level | Product Design | A Level |
| English Literature | A Level | Psychology | A Level |
| Fashion and Textiles | A Level | Religion, Philosophy & Ethics | A Level |
| Financial Studies L3 | L3 BTEC | Sociology | A Level |
| Food Science and Nutrition | L3 Diploma | Spanish | A Level |
| French | A Level | Physical Education | L3 BTEC |