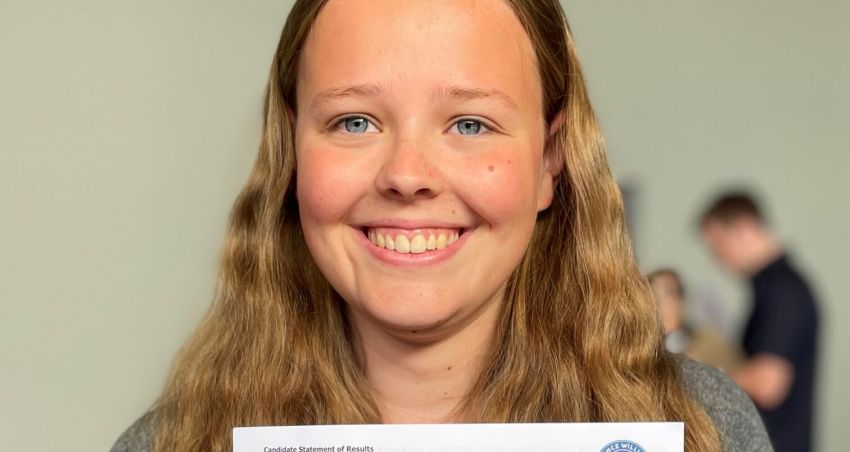 Students and staff from Prince William School in Oundle are celebrating after receiving fantastic A level results today (Thursday 17th August).
The school's results are above those achieved in 2019, a significant achievement for students and staff as this year's grade boundaries have returned to the pre-Covid standards. Of the grades awarded, 28% were A*/A, 79% were A* to C, and the overall pass rate (A* to E) was 99%.
Some of the school's top performing students include:
Evie Bassett - Four A*s and one A* for Extended Project Qualification (EPQ) and will be going to Cambridge University
Quinn Hill - Three A*s and one A
Harry Mason - Three A*s
Grace Cresswell - Two A*s and one A
Eloise Baxter - One A* and, two As and one C in EPQ
Chris Boon - One A* and two As
Lana Griffiths-Thompson - One A* and two As
Natasha Vogt - One A* and two As
Headteacher Elizabeth Dormor said: "We are delighted that our students have achieved so well. This cohort has suffered greatly through the pandemic, including having no prior formal exam experience because GCSE exams were cancelled in 2021, so for these students to attain such great results is a fantastic achievement. They have shown exceptional resilience and determination to succeed, and we are very proud of them.
"I'd like to offer my sincere congratulations to all of our Year 13 students on their results and wish them to very best of luck as they leave Prince William School to go on to university or the next step of their choice."