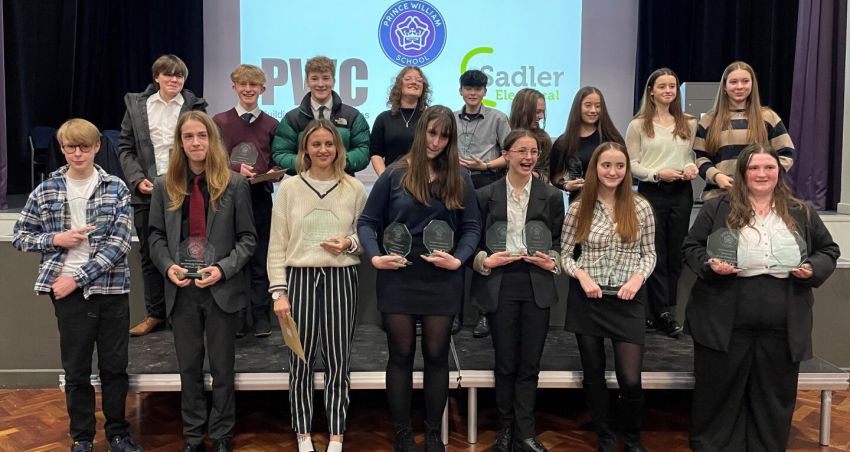 We were delighted to welcome back our Year 11 students who received their GCSE results this summer for a special presentation evening.
The event saw of Year 11 class of 2022 return to Prince William School to receive their certificates from Alex Wallace, Sunday Times Sportswoman of the Year 2018 and founder of the Mintridge Foundation.
We also presented a number of special awards to some of our students who achieved particularly well in a given subject, or in recognition of leadership, attendance, progress, achievement, community contribution and resilience. Well done to all of our award winners.
We'd also like to thank our fantastic sponsors who make this special event possible.
The Jon Essam & Co Ltd Year 11 award for

Additional Maths

Rebecca Walker

The VSH Year 11 award for

Art

Sonny Tilley

The Harrowden Turf Ltd Year 11 award for

Biology

Ester Millard

The PWC Building Control Services Ltd Year 11 award for Business Studies

Rory Swan

The Nene Valley Brewery Year 11 award for

Chemistry

Elizabeth Eames

The Qi Marketing & Web Design Year 11 award for Computer Science

Max Jenkinson

The Oundle School of Ballet Year 11 award for

Dance

Chloe Smyth

The Willowbrook Kitchens Ltd Year 11 award for

Design

Harry Soans

The Five Star Mortgages Ltd Year 11 award for

Drama

Sophie Breedon

The Beans Coffee Stop Ltd Year 11 award for

English Language

Rachel Walker

The Oundle Festival of Literature Year 11 award for

English Literature

Ben Henshaw

The Titanium Marketing Ltd Year 11 award for Enterprise & Marketing

Summer Maughan

The Langology Language Services Year 11 award for

French

Shams Metcalf

The Sarah Vogt – Travel Counsellor Year 11 award for Geography

Rory Swan

The Little Land Company (Oundle) Ltd Year 11 award for History

Jake Armstrong

The Hambleton Bakery Year 11 award for

Hospitality & Catering

Erin Bannigan

The Sinevia Ltd Year 11 award for

ICT

Eli Wells

The Wattsons Teak Products Year 11 award for

Mathematics

Christopher Wallace

The Northamptonshire Music and Performing Arts Trust Year 11 award for Music

Rachel Chisnall

The Bon Precision Engineering Year 11 award for

Physics

Rebecca Walker

The Real Cleaning Company (UK) Ltd Year 11 award for Religious Studies

Rebecca Webb

The B R Carpentry Year 11 award for

Science

Rory Swan

The Hair @ Number One Year 11 award for

Sociology

Alex Crick

The Duke of Wellington Year 11 award for

Spanish

Evie Roe

The Gorilla Firm Cycling Year 11 award for

Sport

Heidi Mercan

The Bennett's Cafe Year 11 award for

Contribution to the Community

Chloe Smyth

The Walking Miles Ltd Year 11 award for

Resilience

Sophie Breedon

The East Midlands Academy Trust Year 11 award for Leadership

Rachel Chisnall

The Sadler Electrical Contractors Ltd Year 11 award for Attendance

Heidi Mercan

The Wattsons Teak Products Year 11 award for the Highest Overall Achievement

Ester Millard

The Year 11 Headteacher's Progress Award

Alasdair Marshall